Remember my last blog post where i introduced that new favourite coat of mine? Well, today i'm proud to introduce you to this new addition to my wardrobe.
BEHOLDDDDDD, my current favourite blazer given to me by INDULGE CLOTHING because i entered their blogger competition and this is what they've sent me for week 1! I was so surprise when i got this in the mail today cause OMGOSH i have been hunting for the perfect floral blazer for about a few months now. IT WAS AS IF THEY'VE READ MY MIND! The floral print is very unique because from afar they look like as if they were splashed on with paint and THEY ALSO REMIND ME OF SPRING <3 oh spring, so close yet so far, how i wish it's here already, i'm so freaking tired of walking in the cold and being judge for wearing brights in winter.
I also love how loud this floral print is and it's the perfect piece for anyone to jazz up an outfit.It can be worn in many way, maybe pair it with a pair of red jeans a neutral dress and it can even be a perfect colour blocking peice! I know that this baby here is going to keep me warm in alot of those chilly spring days.
This outfit is inspired by of course SPRING and all the colours in it. I paired this blazer with this soft white shirt because of how loud it already is. I tried pulling the outfit together by wearing this orange skirt because of the little orange detail that's on the blazer.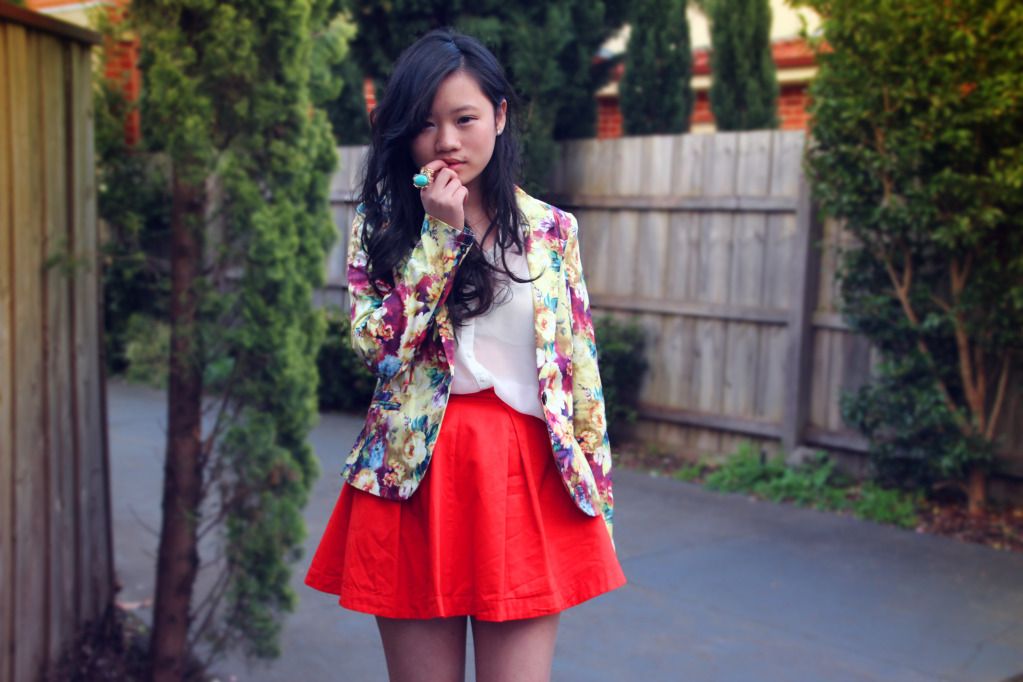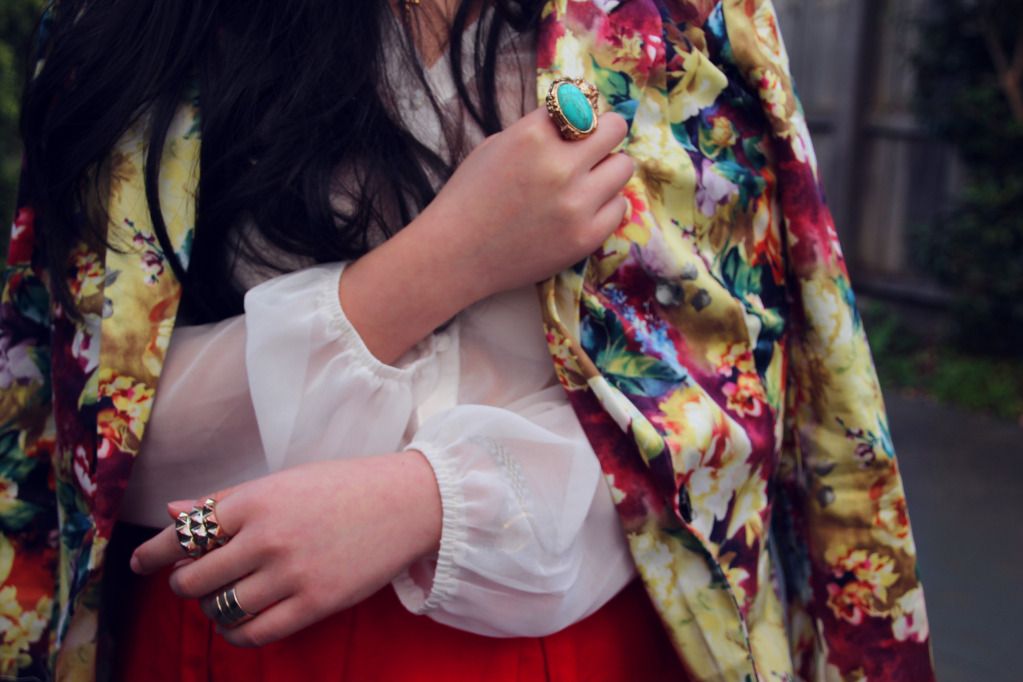 okay i know that this might be a little random, but i'm just gonna show you guys anyways simply because i can.
So, I came across these cute as hello kitty stuff the other day at target while shopping for a present for this baby nephew of mine. AND OMGOSHHHH arent they like the most adorable things???? JUDGE ME ALL YOU WANT but i've been a sanrio fan for as long as i can remember. COME ON, how could i say no to these cuties.
wearing: sister's backless sheer top from VALLEYGIRL :: orange skirt from ASOS :: floral blazer from INDULGE CLOTHING::
hope you all enjoyed this last minute blog post of mine. hope you didnt fell asleep while reading it cause of my UN-interesting-ness. I dont know when will be the next time i post a blogpost cause i've been busy preparing myself for year 12 exams. OHH THE STRESS. I'm stopping all my procrastination from now and i'll probs try to organize time to blog, so please bare with me.
Before i end this blog post, i just wish that you can take a minute and click
this link here
to click like as a vote for me! PLEASE AND THANK YOU! (:
ANYWAYS THANKS FOR READING! IT REALLY MEANS ALOT TO ME (':